"Your Drink Beverage Company" is your premier supplier of beverage development, manufacturing, and quality.
Maolicare works hard to ensure that your individual needs are met and that your beverage development reflects the unique idea that you envision. Maolicare is your exclusive source for turnkey beverage solutions whether you are looking to start a beverage company, formulate a new beverage concept or add to your existing product line. We provide support from the concept stage to a shelf-ready product.
Our objective is to help you capitalize your potential by personally guiding you through the beverage development and manufacturing process. Our team consists of the industry's leading experts in the fields of beverage formulation, development, manufacturing, sales and logistics solutions. Our staff is experienced providing support to entrepreneurs both domestically and internationally and are here to ensure that you have a smooth process from start to finish.
Maolicare also features a variety of custom and private label beverage options that include; custom and private label energy drinks, custom and private label energy shots and custom label sodas. We are here to support your initiatives to build brand awareness, help to promote your next event or simply put your company image on a beverage for any occasion you have in mind.
We invite you to discover our services featured on our website and to encourage you to reach out so that we can personally help you achieve brand success from conception to a finished product!
Starting a Beverage Brand
Are you starting a beverage brand?
We are pretty sure you have lots of questions and need answers. At The Drink Ink, we have over ten years of quality experience working with all sorts of businesses in the beverage industry. We have seen success story after success story of beverage brands succeeding in the beverage industry. Our team welcomes all start-ups and entrepreneurs big and small. We are ready to help you get started.
With some of the lowest minimums in the industry, we can tailor runs specifically for the smaller brands and starts ups as well as tailor the runs we do for larger national type brands. Please call us today to start your new beverage brand.
Contact Us to learn more.
Beverage Manufacturing
Maolicare's Approach
The beverage manufacturing process can often be overwhelming without the guidance and support of experienced professionals. Whether it is concept development, beverage formulation, raw material purchasing, price reduction analysis, packaging, or beverage manufacturing; allow us to simplify the process by meeting your needs and presenting you with options and solutions. Upon your request, we are happy to have a personal consultant guide you through the manufacturing and fill process from start to finish.
Outsourcing is a key component to our success and we strongly believe that this is what elevates our services above other beverage manufacturers. Our main priority is to deliver a superior product while offering full support throughout the manufacturing process so that you may focus all efforts on marketing your brand towards success. Your success is our success and we are committed to helping you throughout the process.
Let Us Break It Down For You
Beverage Development
CONCEPT DEVELOPMENT
Collaborate with our team of professionals and let's take your idea to the drawing board to personalize your beverage concept. This phase allows us to perfect your vision, discuss ideas and identify your needs and requirements. We will walk you through price options and customize the perfect package to bring your concept to life.
BEVERAGE FORMULATION
The next step is the formulation creation and flavor sampling process. This is one of the most crucial steps in the creation of your concept as we will define and essentially create your beverage. We look forward to providing you with the needed support whether you are creating a carbonated, non carbonated, functional drink or even a first of its kind new creation!
BEVERAGE PACKAGING
At the same time that the beverage is being formulated, the production team evaluates the use of aluminum cans, plastic bottles, glass bottles or any of the other types of beverage packaging available.
PACKAGING/LABEL DESIGN
Let's work together and deliver a great first impression for your brand. Our in house design team is on standby to assist in your label and packaging design.
Beverage Manufacturing
PACKAGING SOLUTIONS
This includes several components. The first of which was implemented in the Beverage Development stage which included beverage packaging and the label design. The second is the use of packaging including but not limited to the master carton, which could be trays, 4 packs, 6 packs, or 12 packs; counter displays, bottle design, design of lids and tabs, design of bottle caps, etc. Some beverages require all the bells and whistles and others follow the simpler route and use plain and basic packaging which still look top notch.
RAW MATERIAL SOURCING
Raw materials used for the production of beverages include the container, materials used for the packaging & labeling, and all ingredients, flavors, water, sugar, juices, etc. Tracking the use of the raw materials, raw material storage and management of raw materials is all part of beverage manufacturing.
BEVERAGE MANUFACTURER
It is important to only work with the best beverage manufacturers available as this can be the difference between success and failure of a beverage. Every beverage manufacturer has a specific manufacturing focus and are not capable of meeting all manufacturing needs. For example some beverage manufactures specialize only in aluminum cans, some only plastic bottles, some only glass bottles, some use only carbonation, some use a pasteurization process, some are capable of only filling certain size containers, etc. The Drink Ink has been dealing with all types of beverage manufacturers for many years and has a great deal of experience in selecting the best manufacturer for your specific needs.
MANAGE PRODUCTION & ONGOING SUPPORT
Once your product is manufactured, The Drink Ink will continue to provide ongoing support through logistic solutions, assistance with distributor documentation, re-orders, etc. If you need any assistance at all, we will be here to provide the best support possible. Through the many years of experience shipping finished goods throughout the US and the World, our team of experts can handle any shipping needs that you may require. Also with the extensive amount of brands that we have worked with that have landed national distributors, our team is pretty adverse in answering all retail and
distributor questions.
Custom and Private Label
Beverage Products
Whatever you need for Custom and Private Label Beverage Products, we have the means to do it.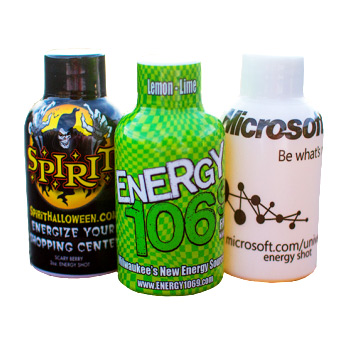 Why You Should Go Custom
Make a statement and deliver your brand through an innovative handheld method with custom and private label beverage products, energy drinks, energy shots and sodas. Let us propel your brand, company, event, or next promotion to ultimate success. Custom handheld advertising allows you to deliver the message of your choice and creates a unique vehicle to increase exposure of your brand to various markets of your choosing.
The Drink Ink offers professional looking custom and private label beverages in as little as 3 weeks. Our custom and private label energy drinks and energy shots are always manufactured with a high-gloss, full color, photo quality sleeve for a custom beverage product that exceeds the look and feel that beverage consumers have come to expect today.
TO GET STARTED OR FOR A FREE QUOTE CALL +31 6 4611.5183 OR EMAIL US AT INFO@MAOLICARE.COM